"Wine is bottled poetry."

— Robert Louis Stevenson
"Wine is bottled poetry."

— Robert Louis Stevenson
Since 2006, hands-on winemaking
that reflects a unique sense of place
Wine is a gift from nature, and every bottle produced at Rombi Wines tells a story of the land, the geography, the climate, and the hands-on philosophy of one man. Salvatore Rombi takes winemaking personally, obsessing over every detail — from harvest to barrel aging — to produce a unique range of elegant yet bold and complex red wines from the Carmel Valley Appellation. Rombi's small vineyard and intimate tasting room provide the perfect setting for an unforgettable wine journey. With an unwavering commitment to excellence and a strict allegiance to sustainable farming practices, Rombi creates award-winning, limited-production vintages. As an ode to terroir — the rock and soil, but also the land and legacy, culture and commitment, time and tradition — the wines from Rombi are always bottled poetry.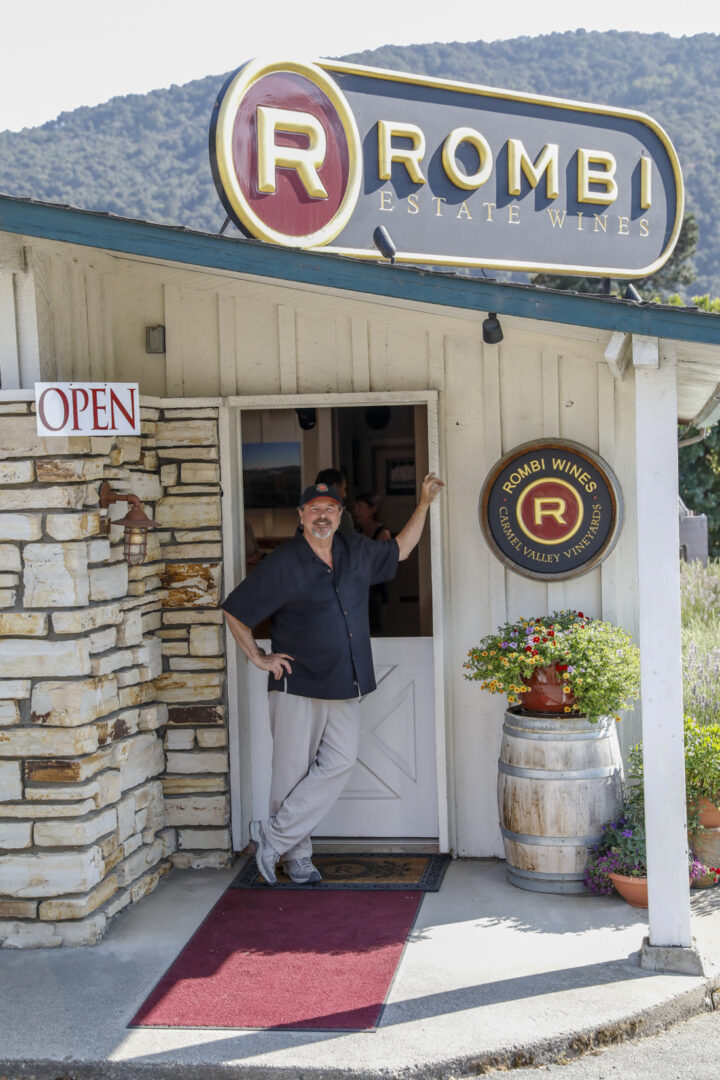 The Rombi Wines Experience
At Rombi Wines, our unique tasting room provides the perfect setting for an unforgettable experience. Salvatore Rombi is most often on hand to guide you through the winemaking process and your tasting experience. Step off the beaten path and discover Rombi, where every bottle tells a story.
Rombi Wines Tasting Room is at 1 Center St., in the charming Carmel Valley Village. We are open Saturdays and Sundays from noon–5 p.m., although appointments can be made for weekday visits.
At Rombi Wines, we are passionate about winemaking and committed to producing the highest quality wines. Salvatore Rombi crafts exceptional wines that reflect the unique terroir of our region. He leads a hands-on process that includes sustainable tending of the vineyard, the careful selection of grapes and traditional winemaking techniques that help produce a delightful range of elegant, beautifully crafted red wines. Come taste the difference!
We offer Rombi Estate Merlot, Rombi Estate Cabernet Sauvignon, Petite Sirah and Petit Verdot — available through our Tasting Room and through our exclusive Wine Club.
Our Rombi Estate Merlot and Estate Cabernet vines were planted in 1998, with our first commercial release in 2006. Over the years we have carefully sourced the best fruit for our Petite Sirah and our Napa Petit Verdot with both Carmel Valley and Napa fruit. Born and raised in Monterey, owner and winemaker Salvatore Rombi is a former restaurateur who has long held a passion for producing great Bordeaux-style wines. His cellar-worthy vintages sell out each year, and he has produced wines enjoyed by collectors around the world.